Kilkenny against Wexford at Nowlan Park on Saturday evening was always going to be one of the games of the year. Much was made of the four weekends in a row that Wexford had to play in the run up to the Kilkenny game. Whether that made a difference I cannot quantify. Frees and freetaking played a large part in the Kilkenny victory on Saturday night.
Here is the Kilkenny freetaking from the match.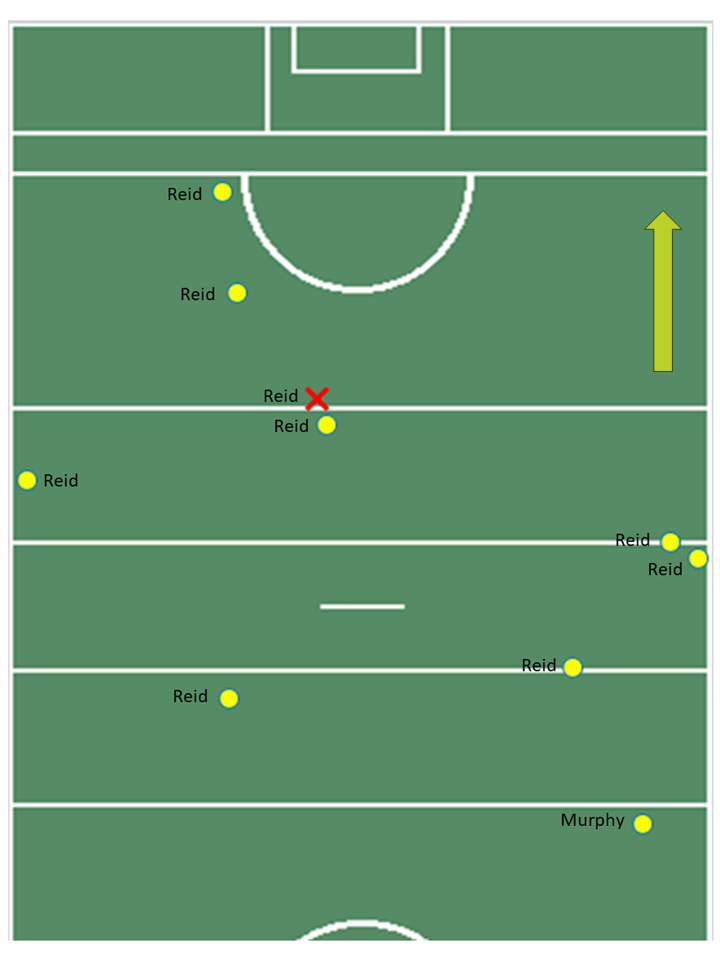 Kilkenny had 6 frees inside the Wexford half, and scored 5 of them, with just one unexplainable miss from TJ Reid from the Wexford 45 in front of goal just before half-time. The frees were taken by Reid, apart from one monster point from inside his own 45 in the first half from Eoin Murphy.
In contrast, here are the Wexford shots at goal from frees in the game.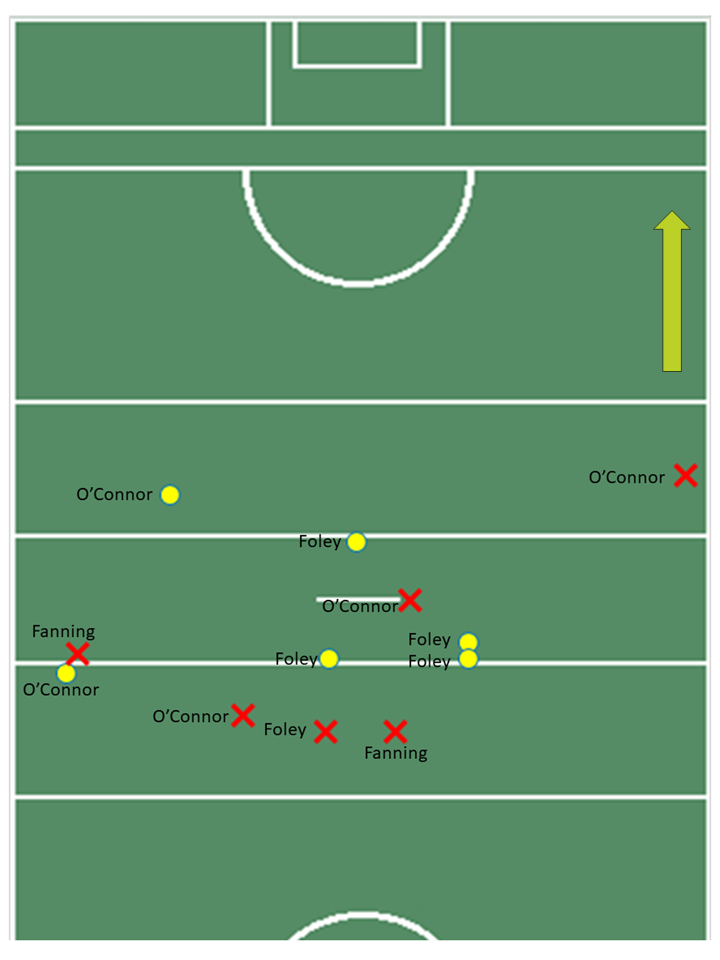 Wexford used a mix of freetakers, with Rory O'Connor having 5 shots, Padraig Foley having 5 shots and Mark Fanning having 2 shots. Just 3 of Wexford's free in the entire game were in Kilkenny's half, with 9 of their free shots at goal coming from their own half.
We can see the positions of the frees awarded to both sides here.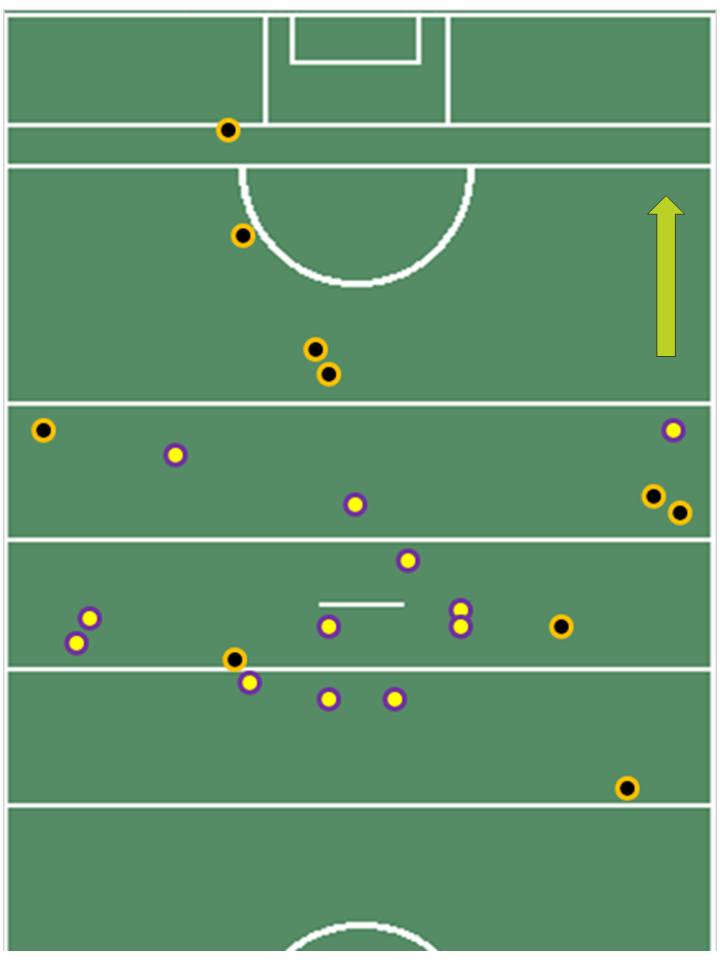 We can see that Wexford's frees were mainly awarded centrally just inside their own half, whereas Kilkenny won frees either inside Wexford's 45 or down the wings. Kilkenny put up a shield of players across midfield and their own half-back line in the second half and were very aggressive in competing for the ball in that ares. In addition, Wexford's running game and lack of ball winning options close to goal meant that most of their possession was in their middle third. In contrast Kilkenny won more ball close to goal, and played ball down the wings often.
Wexford manager Davy Fitzgerald spoke about the refereeing after the game. "We only needed a point [at the end]. I could pick two or three examples where we could have gotten a point. Where we should have got a decision going our way, we found it very hard to get frees out there today" he told Sky Sports after the game.  I agree with Davy's summation to an extent. I feel that the refereeing was more lenient in the second half, and that's despite more frees being awarded than in the first half. Kilkenny stepped up their intensity, put massive physical pressure on Wexford players, and Davy may be right that many frees were not awarded which could or should have been. However, the success rates of each teams' freetakers was really key.

What can be seen from the numbers is that Kilkenny have two brilliant freetakers in TJ Reid and goalkeeper Eoin Murphy on the very long-range frees. Reid hit 8 out of 9 (89%) with only that one miss, and Murphy hit his one free successfully (100%). Kilkenny scored 9 out of 10 (90%) frees on the day (in addition TJ Reid also scored a 65).

In contrast, Wexford were far less successful with their frees in the game. They used three freetakers. Rory O'Connor scored 2 out of 5 attempts (40%), Padraig Foley was better getting 4 out of 5 attempts (80%) while Mark Fanning was unsuccessful with his two long range efforts (0%). Overall Wexford scored 6 out of 12 frees they had, for a 50% success rate.
That's a big difference between the two teams: Kilkenny at 90% and Wexford at 50%. While I am in agreement that Wexford were hard done by at stages in the second half with some refereeing decisions, I am a believer in controlling the controllables. Wexford may legitimately have issues with some decisions, but that cannot control the referee. They can, however, control their own freetaking ability.
Having a reliable freetaker is an issue that has followed Wexford for a couple of seasons now. Paul Morris, Jack Guiney, Conor McDonald and Lee Chin have all been appointed freetaker by Wexford in recent seasons, only to have been relieved of the duties. Midway through this seasons National League young Rory O'Connor stepped up to become the freetaker and was certainly an improvement. But we can see from the Kilkenny game he had a dip in his success rate.
Without a top freetaker it will be hard for Wexford to come out on the right side of tight games like Saturday night's thriller in Nowlan Park. If they had upped their freetaking to just 75% they'd have won the game. Players like Joe Canning, Pauric Mahony, Shane Dowling, Pat Horgan and Jason Forde are top of the range freetakers, and make teams think twice about fouling. Kilkenny had no such fear of punishment against Wexford. They could play right on the edge, knowing that if they fouled Wexford out the field, it would be 50/50 whether Wexford would score. Either way Kilkenny would get the ball back.
As Davy Fitzgerald said himself on Saturday "they got a lot more scores from their frees than we got from ours. Look at the positions, look at where we got our frees. You can say I'm whinging – I'm not. I work on statistics, on fact".
What would Wexford give to have TJ Reid and Eoin Murphy hitting their frees.