It's fair to say Tipperary hurlers under-performed this year. They have failed to progress past the Munster round-robin series, finishing the season with two draws against Cork and Waterford and two losses to Limerick and Clare. Michael Ryan is coming under pressure from within his own county. Many will be wondering with so many talented players at their disposal, how could Tipperary not manage a single win out of four games in the Munster championship.
Something noticeable throughout the year was the number of changes Michael Ryan made for each game in the league and championship this year. He never settled on a team, trying out many players in every position. I decided to have a look at those selections.
Tipperary used 37 players in their 12 competitive matches this year. Here's that list of players: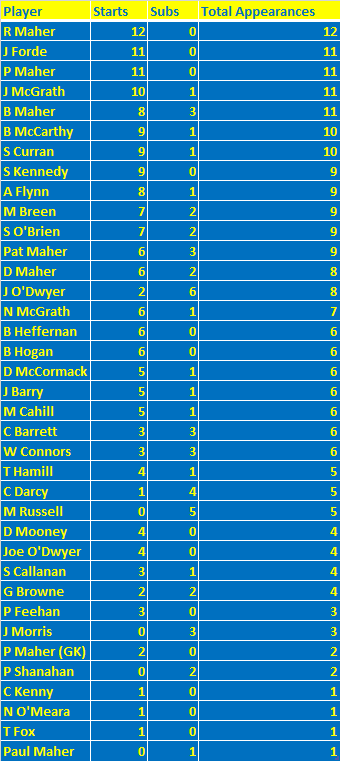 It is inevitable that there will be injuries in any squad. For example, Seamus Callanan missed much of the year through injury. Noel McGrath also missed a chunk of games through injury. There is also the need to try players out during a league campaign. Teams with too settled a side often regret it, having few options available on the bench come championship time.
Having a look through which players played in which position most often makes for interesting reading.

A couple of positions were nailed down. Jason Forde started 10 of the 12 games at full forward. Padraig Maher started 9 of the 12 games at centre back. Centre forward appeared to be Noel McGrath's spot until injury hit, and was then the number 11 jersey was given to Billy McCarthy until McGrath returned. That though is where the structute ends.
Paul Maher and Darragh Mooney both had two games each in the league before Brian Hogan was given a chance. Even then Mooney came back in for the league semi-final and final before being dropped for championship for Hogan. Full back was the most problematic position for Tipp all year. James Barry and Tomas Hamill were both given half the league campaign each at full back, before Kilkenny and Walter Walsh destroyed the Tipperary full back line in the League Final. Neither Barry nor Hamill played a single minute of championship hurling since, with untested Seamus Kennedy handed the role.
Wing back was also a spot where many were tried, 10 different players starting there during the year. Eventually Joe O'Dwyer nailed down one spot, but he had only started 1 league game. Barry Heffernan played most of the league but only got 1 championship game. Sean Curran started every league game at wing forward and the first championship game, before being dropped and only making one substitute appearance in the last 3 games.
Corner forward was a revolving door, 10 different players getting starts, with John McGrath and Michael Breen starting most often. Breen had just one substitute appearance in championship.
Perhaps most surprising is that Cathal Barrett only started 3 games all season, and John O'Dwyer even more surprisingly only started 2.
Here's the Tipperary team showing those who most often wore each jersey during the season.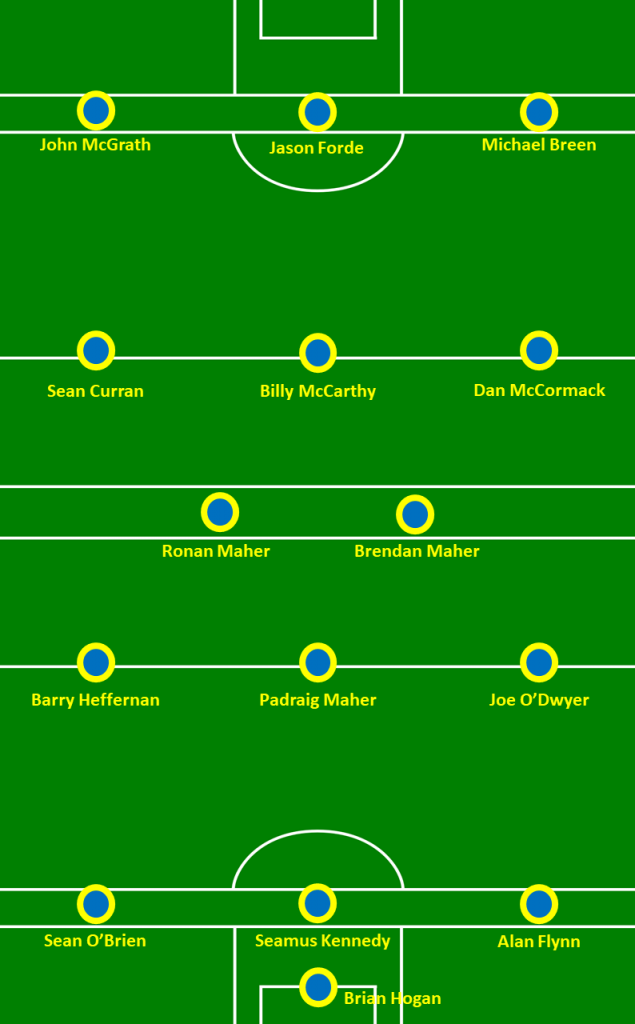 Having a settled team is not a necessity, but I am a believer in having at least a framework to add in and take out players a manager wants to try. By all means try out players, it's essential, but keeping one or two players in each line more or less constant through the year helps those coming in.
Here's what Tipp's team could have looked like, and how I personally would like to have seen them line out in a championship game.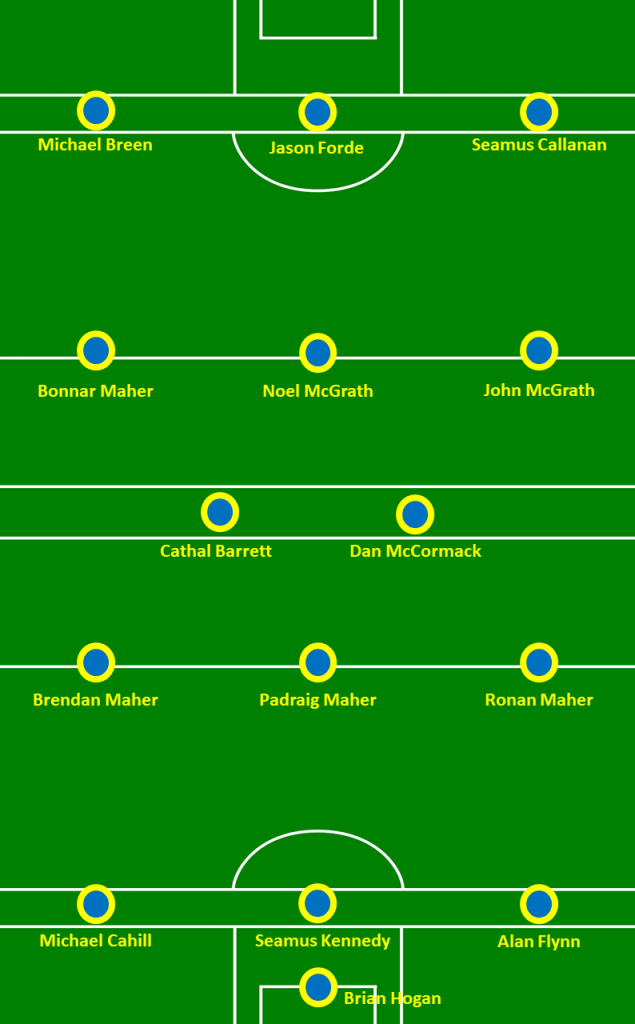 Ryan can not be accused of taking the league too seriously. Yes, Tipperary reached the league final, but that was more down to the amount of talent at their disposal than it was about consistently picking their top players in pursuit of wins.
Experienced managers like Brian Cody have trying out new players down to an art at this stage. Kilkenny this year tried out lots of players in many of their positions, yet they held their structure. A team which is evolving (in transition we were told!), yet Cody tested and tweaked without hurting the team's cohesion. Eoin Murphy was goalkeeper. Padraig Walsh full back with Paddy Deegan and Joey Holden next to him. Cillian Buckley at centre back, TJ Reid at centre forward and Walter Walsh at full forward. Around these 7 players Kilkenny slotted in different players at midfield, wing back and on the flanks in attack.
Management is a steep learning curve. I hope Michael Ryan is retained by Tipperary although he will come under huge pressure. He will have learned a lot from this season, and will make the changes needed. For the job he has done, he deserves another year.
One thing is for sure. With the amount of talent available, if they can settle on their best team, Tipperary will be a very dangerous animal next year.