Warren Gatland: "From my point of view, if someone pushes him [Murray] afterwards, that's fine but diving at his leg? I know other teams have used that in the past and I think Joe [Schmidt] has come out and was pretty critical about that being a tactic other teams have used against Conor. It's just a safety issue for me. I'd hate to see someone dive at his leg and have him blow a knee and then wreck his rugby career."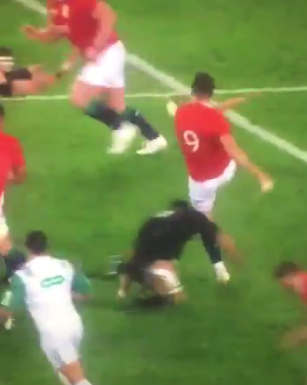 This article is some analysis of the box kick, what it is, pros and cons, and why all the fuss about Conor Murray at the moment.
What is it? Probably more so than ever before, teams are using the high contested box kick as an attacking tactic. From most positions on the field, teams are electing to forsake constructive attacking play in favour of a high box kick where the ball lands 30m downfield to be contested by, usually, both sides' wingers. As the ball is launched skywards, wingers (and others) give chase hoping to win possession further upfield, to knock the opposing catcher into touch, or to put the opposition under pressure far downfield.
Why so popular? The rules of the game, as they are refereed currently, make the box kick almost impossible to prevent. A scrumhalf standing at the base of a ruck positions players in front of him in a line where they physically block off any opposing player who attempts to charge down the impending kick. It is near impossible to charge down a box kick currently, with teams blockers drilled to be in the correct position as soon as a box kick is called. The box kick has become more popular than the wipers kick looking for touch, and the Garryowen (up-and-under) where the outhalf launches the high bomb instead.
What's happening? Currently there is a lot of attention being directed toward Conor Murray, the Irish and B&I Lions scrumhalf. He is the world's best box-kicker, and his teams make use of his ability to box-kick to contest as often as they can. On Saturday Murray kicked the ball 11 times, passed it 50 times and ran just 3 times, a kick rate of 17%. Contrast this with his opposite number Aaron Smith, who kicked the ball 6 times, passed it 103 times and ran himself 7 times – a kick rate of just 5%.
With blockers in front of him at all times, it is almost impossible for any team to charge down Murray's kicks. Some teams have begun to try to tackle him from his blind side as he kicks. There is nothing wrong with this in itself. The ball is in his possession until such time as it leaves his boot, and with fewer blockers lined up on the other side of the ruck, perhaps the only way a team can limit the damage his kicks can do is to tackle him or knock him off balance from his blind side. New Zealand weren't penalised for any late hits or high hits in Saturday's game. A player can be tackled low at any time they have possession. So far, things make sense. You can't charge his kick from his kicking side due to blockers, so you try to knock him down from the other side. The problem is this: it's dangerous to be hit on the blind side, and especially dangerous to hit a player on his standing leg when his whole weight is on that leg. Ankle breaks, achilles tears, knee dislocations, cruciate ligament tears, medial ligament tears, broken legs all can come from a hit on a planted leg. A hit that is low, timed well and on a player in possession of the ball, completely fair within the rules of the game, can badly hurt someone.
(There are suggestions some have gone out to deliberately injure Conor Murray. I really hope that this isn't the case. Any player going out to deliberately injure another player should be banned for life).
Below I use some images to illustrate the point: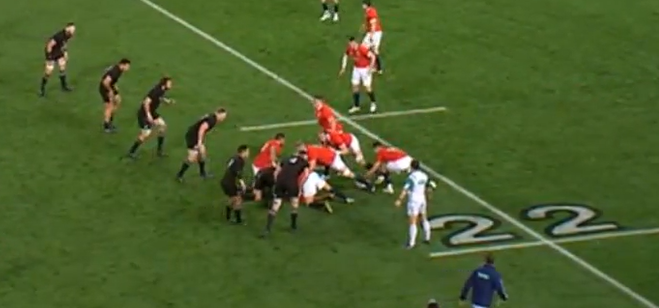 Here Conor Murray lines up for a box kick from just outside the Lions 22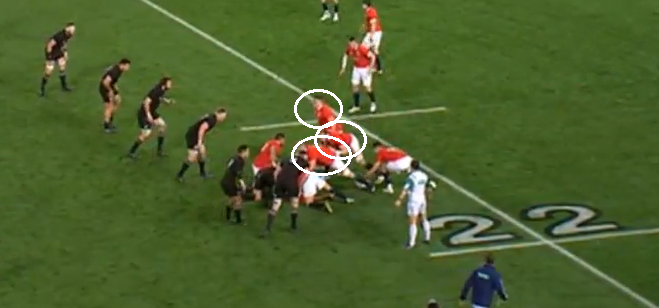 We can clearly see 3 blocking players in front of Murray on the strong side of the ruck, only one of whom could possibly claim to be part of the ruck, preventing the All Blacks from any charge down or contest.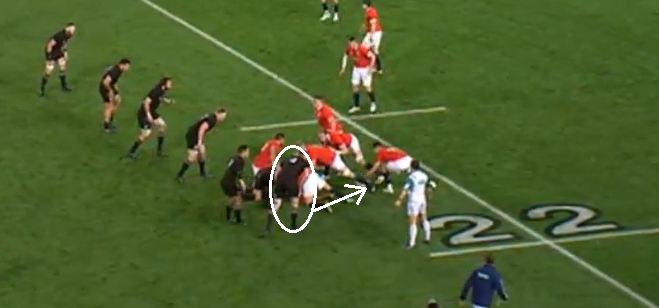 No protection for Conor Murray on the weak/blind side of the ruck. Brodie Retallick is in a great position to tackle Murray, and is the only option the All Blacks have to make any contest for the ball. If anything, the Lions need to tighten up their rucks to ensure Murray has blockers on both sides, not just the strong side.
What's wrong with the box kick?
–          I'm not a fan of the box kick. Using blocking players to prevent a challenge on the ball, first and foremost, is against the spirit of the game. In the maul and in open play, referees very closely watch out for support players encroaching ahead of the ball preventing a contest. They are very quick to penalise any team who uses blockers in any other aspect of the game, and rightly so.
–          The use of the box kick has also led to current decline of the speedster winger, the guys with searing pace who tear up and down the wing terrorising opponents. Teams more often over the last 10 years have chosen wingers who are tall and strong under the high ball in preference to choosing pace. This is sad. Wings are traditionally among the most exciting players on the field, yet the ability to be able to comfortably catch and contest high ball is preferred by many coaches. How many teams have converted centres or full-backs on the wing nowadays?
–          In the same vein many scrumhalves are chosen on the strength of their ability to kick, rather than on the quality of their pass, break, or ability to run the attack. This is also sad, and just like with the wings, means many teams don't play with the attacking cutting edge they may be capable of.
–          The box kick kills a large amount of imaginative, attacking rugby in two ways. As I've mentioned, the selection of players who are chosen on their ability to catch and kick the ball over those who are stronger at passing and running with the ball limits the capability of a team to attack well. There is also a certain level of lethargy or lack of creativity that the box kick brings- why go through 7 or 8 phases, any one of which your team could lose possession in, when you can box kick and contest. It's a safety net teams now rely on in preference to thinking and working to score.
Solution? It is clear that a scrumhalf is soon going to be seriously injured from a hit on the blind side when box-kicking the ball. It's not if, but when. World Rugby will be under pressure to change the rules to prevent such injuries. It is my hope that they don't legislate against these legal tackles, but instead legislate to allow fair contest of the ball from the ruck. Blockers must go and fair charge down of the ball must be encouraged. To do this I would advocate that any player who didn't join the ruck through the gate and is not currently bound to the ruck (and this means shoulder bound rather than a cursory hand on someone's shoulder) is offside. Block fair contest of the ball, and it's a penalty against you. Eliminate the blockers and you allow fair contest. Teams would be more reluctant to kick the ball into the sky and would choose to run or pass it instead. Defences would try to charge down the ball fairly and wouldn't need to try other more physical ways to stop a scrumhalf. These blind side hits are only a product of the blocker preventing the contest- remove the cause, not the outcome.
http://www.performtraynor.ie/
https://www.linkedin.com/in/christraynor1
https://www.facebook.com/PerformTraynor/
https://www.instagram.com/performtraynor/