Offaly, going by the rules currently in place, will have their senior hurlers relegated to the secondary competition, the Joe McDonagh Cup, for 2019. They had started the year brightly with a good win against Dublin, finished with a walloping against Dublin, and had a narrow loss to Kilkenny in the league. It was a disappointing year.
I've put together some Offaly Senior hurlers stats from the last 5 National Hurling Leagues and All-Ireland Championships. From 2014 to 2018, these are the basic numbers the Offaly hurlers put up summarised.
First, here's the totals.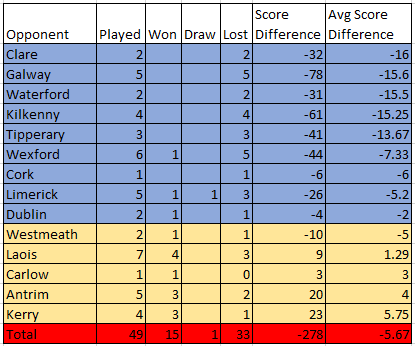 Offaly had a total of 49 league and championship games over the 5 seasons. In this time they won 15 games, lost 33 games and had 1 draw. Their total points difference was -278, which is an average loss by 5.67 points. Most notable are 13+ point average losses against Clare, Galway, Waterford, Tipperary and Kilkenny over the past  5 years.
Here is the Offaly record against teams currently competing in the Liam McCarthy Cup over the last 5 years.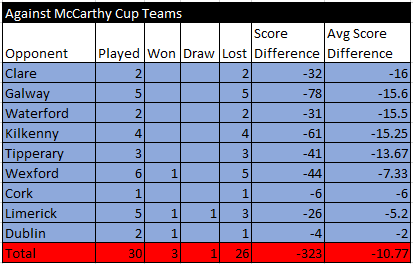 Against Liam McCarthy Cup teams, the reading is stark. Offaly played 30 times against the top 9 teams in the country in the last 5 years in competitive hurling. They managed just 3 wins, 1 draw and 26 losses. Their total score difference over those 30 games is -323, an average of almost 11 points per game. Even against teams like Wexford and Limerick, who have had tough times over the last 5 years (this year apart), Offaly have a pretty poor record of played 11, won 2, drew 1 and lost 8.
Looking then at the Offaly record against those teams in the Joe McDonagh Cup, here it their record over the same period.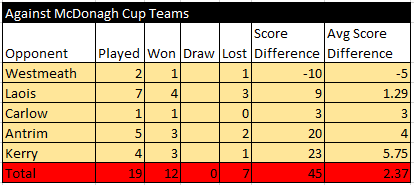 Here we can see Offaly fared better. 19 games, with 12 wins and 7 losses and a positive points difference of 45, an average of 2.37 per game. Offaly didn't play Meath in either National League or Championship in this period.
There are two sides to the argument as to whether Offaly should remain in the Liam McCarthy Cup. I watched Ger Loughnane on RTE's Sunday Game the other evening and he was quite passionate that Offaly should go down to the Joe McDonagh Cup and regroup. I've also seen other pundits like Tom Dempsey and Liam Sheedy speak about the need to keep Offaly at the top table, lest an elite hurling county be lost – there are only 10 and it would be a real shame were we to lose one.
From what the numbers say, Offaly belong in the Joe McDonagh Cup. They do not belong in a competition where they take 13+ point beatings on average from many of the teams. They have a losing record against every team in the Liam McCarthy Cup except Dublin. Against the Joe McDonagh Cup teams they have played over the last 5 years, they have a winning record, but still have lost to Kerry, lost to Westmeath, lost twice to Antrim, and three times have lost to Laois. Against these 5 Joe McDonagh Cup teams, they on average outscore their opponents by slightly more than 2 points per game. Sadly, for whatever reasons, this is Offaly's standard.
It's easy to understand where Tom Dempsey and Liam Sheedy are coming from, it is such a shame that this is where Offaly find themselves. It is a shame that there are really 9 teams who are competitive in a 10 team competition this season, and a tragedy for a game trying to grow itself if one elite team falls. But the horse has already bolted. Offaly haven't been a top team for a long time. The numbers speak for themselves. The hurling community has done it one way for a long time. There have always been enough teams that Offaly could win one extra game to stay up. In 2014 when Offaly had lost a relegation playoff to Antrim to be bottom of Division 1B – the playoff meant they could beat Kerry in a relegation/promotion playoff to stay up.
The current format seems to be working and it has been a very enjoyable championship. Both Anthony Daly and Davy Fitzgerald have said we need one free weekend in the middle of the round-robin section, and I think this will happen next year. The 10 team championship is working. Likewise there have been some very good games at Joe McDonagh level. I hope this is retained for next season with one up and sadly one, Offaly, down.